Return
Parusso
Piemonte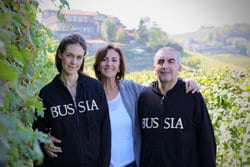 The Parusso family story is one of dedication, passion, and a constant desire to improve through experimentation. Their dedication to their craft drives them to rediscover knowledge, traditions, and the ancient vineyard arts of their ancestors.
It is important to understand how each generation of the Parusso family has had an impact on the winery that exists today. In 1901, Gaspare Parusso purchased the Mariondino plot, the first vineyard bought by the Parusso family. A few years later in 1925, the family acquired the "Rovella" farmhouse where their cellar now rises up above the Rocche vineyard. In 1971, Gaspare's son Armando began to make from his own grapes under the Parusso family label and when his son Marco finished enological school in Alba in 1986, he joined Armando at Parusso and they continued to make wine together. Three years later, in 1989, Armando bought the Munie vineyard in the Bussia hamlet.
The history of the Parusso family has evolved over 120 years, from a family of farmers to a family of vintners. Parusso wines continue to garner international acclaim while remaining true to tradition, family values, and ultimately respect for the land that has been in their family for over 100 years.


Owner :
Marco and Tiziana Parusso
Varietals planted :
Barbera, Dolcetto, Nebbiolo
Winery production :
150,000 bottles
Total acres planted :
28 hectares
Close
Recommend this Producer
Your pdf has been sent with success.