Return
Ridgeview
South Downs, England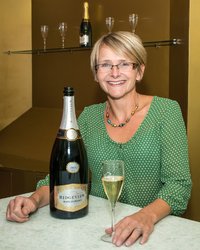 The preeminent producer of English sparkling wine, Ridgeview Wine Estate was established in 1995 by Mike and Christine Roberts. The estate is located 40 miles south of London, at the base of the chalky South Downs, in the county of East Sussex.
From concept to inception, Ridgeview were determined to produce only sparkling wines, using traditional methods and varietals, with quality being the top priority.
For the past 24 years, Ridgeview has been the dominant influencer in the rise of English sparkling wine production. Ridgeview's belief from onset that England was capable of producing world-class sparkling wines has been unwavering in their strive to achieve just that.
Throughout their impressive history, Ridgeview has won multiple awards and trophies in both national and international competition. Ridgeview is the only non-Champagne ever to win the Decanter award for "Best Sparkling wine in the World", and the only English winery in history to win the Prestigious IWSC "International Winemaker of the Year" in 2018.
Today, the winery is run by second generation Tamara and Simon Roberts, Tamara as CEO, and Simon as winemaker. Following in their parent's footsteps, and honouring the original vision, Ridgeview represents the best of England.
Owner :
The Roberts Family
Varietals planted :
Chardonnay, Pinot Meunier, and Pinot Noir
Winery production :
250,000 bottles
Total acres planted :
12 acres (5 hectares)
Close
Recommend this Producer
Your pdf has been sent with success.