Return
Cesarini Sforza
Trentino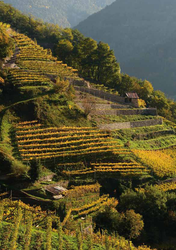 Cesarini Sforza was founded in 1974 by Count Lamberto Cesarini Sforza in the Val di Cembra in the Trento region of northeastern Italy. Particularly well known today for its sparking wines, the tradition of metodo classico began in Trento in 1993. It was one of the first regions worldwide after Champagne to attain official sparking wine certification.
The Val di Cembra has the perfect mountain terroir for sparkling wines. Grapes grow at between 300m to 600m A.S.L. and this high altitude is a perfect micro-climate for the cultivation of white grape varieties and helps to create prime acidity for sparkling wines. Esters (a component in wine relative to aromas), are often a product of fermentation, but instead in Val di Cembra they come from the soil.
Giorgia Brugnara is Cesarini Sflorza's winemaker and is one of the most celebrated sparkling wine profesionals in all of Italy. Her diligence and perseverance in the cellar contribute to the precise, consistent nature of Cesarini Sforza sparkling wines.
Varietals planted :
Chardonnay, Pinot Nero
Winery production :
1,200,000
Winemaker :
Giorgia Brugnara
Total acres planted :
1470 acres (Cesarini Sforza is only made from the best selection of grapes)
Close
Recommend this Producer
Your pdf has been sent with success.