Return
Andeluna
Uco Valley, Mendoza, Argentina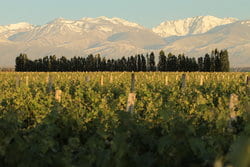 ANDELUNA is a family-owned winery located in the rocky region of Gualtallary, Tupungato, Mendoza in the foothills of the Andes mountains of Argentina. The name Andeluna was created from merging two concepts - ANDE comes from the ANDES mountain range where you have a combination of mountain, unique soil, water, altitude and man's knowledge; and LUNA is moon in Spanish, a place of inspiration and magic, both indispensable ingredients for the creation of a great wine. Originally founded in 2003 by Ward Lay, a North American investor, the winery is now owned by the Barale family since Lay's passing in 2011. Manuel Gonzalez Bals is Andeluna's winemaker and Hans Vinding-Diers is the enology consultant.

Gualtallary, located high in the Andes in the Uco Valley of Mendoza, is one of the most prestigious wine-producing regions in Argentina. There are only eight wineries in this region, representing less than 1% of all the wineries in Mendoza. The soil in Gualtallary is rocky and calcareous with higher minerality. The vines grown here naturally produce low yields, leading to wines of greater concentration and intensity. Andeluna focuses on making wines that are representative of this unique terroir and uses sustainable viticulture techniques and other environmentally-friendly practices.


Varietals planted :
Chardonnay, Sauvignon Blanc, Torrontes, Cabernet Franc, Cabernet Sauvignon, Malbec, Merlot
Winemaker :
Manuel González
Close
Recommend this Producer
Your pdf has been sent with success.