Return
Copertino
Puglia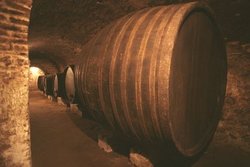 The Copertino Cooperative was established in 1935 when a group of visionary growers, from a tiny town in the heart of the Salento peninsula's wine growing region, decided to produce higher quality wine from their traditional indigenous grapes. By maintaining lower yields in the vineyards and with meticulous attention to detail in the cellar, the resulting wines emphasized the terroir of the region and the DOC Copertino was ultimately established in 1976. Today the cooperative numbers 300 proud members who each manage their own harvest. The area under vine is made up of 300 hectares planted mostly to traditional varieties: Negroamaro, Malvasia Nera, and Primitivo. The DOC Copertino is located in Salento in the south of Puglia on a clay soil structure on top of hard limestone (tufa) that lies just above sea level. In the cellar, during vinification and aging, the goal is to emphasize the character of the region through distinctive wines of elegance and harmony.

Varietals planted :
Negro Amaro and Malvasia Nera
Winery production :
1,200,000 bottles
Winemaker :
Giuseppe Pinzolanti
Total acres planted :
1,000 acres/400 hectares
Close
Recommend this Producer
Your pdf has been sent with success.