Return
Col dei Venti
Piemonte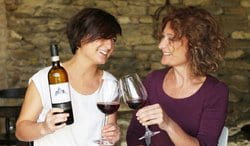 These elegant and approachable wines come from the family estate in Castiglione Tinella. Here, famed enologist Claudio Icardi creates noteworthy and critically acclaimed wines. Working in concert, enologist Ornella Cordara meticulously selects and blends the cuvée to produce the wines of Col dei Venti. These fruit-driven yet age-worthy wines are made from the yield of vineyards covering 60 hectares in the gently rolling Langhe and Monferrato hills. The varied terrain and numerous microclimates allow Ornella to demonstrate her carefully articulated plan to vinify very ripe grapes while judiciously employing new oak to produce consistent wines of distinction.
Col dei Venti is committed to using organic and biodynamic farming practices in the vineyard and refrains from applying chemical pesticides or fertilizers.

Varietals planted :
Chardonnay, Moscato, Sauvignon, Barbera, Brachetto, Dolcetto, Cabernet Sauvignon and Nebbiolo
Winery production :
50,000 bottles
Winemaker :
Claudio Icardi
Total acres planted :
87 acres/35 hectares
Close
Recommend this Producer
Your pdf has been sent with success.