Return
Terlano
Alto Adige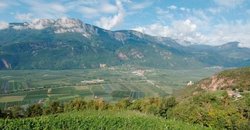 Located in the Dolomite Mountains in the foothills of the Alps, Terlano's distinctive location and extraordinary terroir are key to the development of their stunning, world-renowned wines. Situated in a sheltered hollow, Terlano benefits from an ideal south‐facing exposure. Vineyard slopes ranging from 250m-900m ASL provide perfect conditions for the cultivation of grapes, especially Lagrein, a variety that is indigenous to the Alto Adige region. In the vineyard, red porphyry rocks with high mineral content retain the day's warmth, while the porous soil creates an environment with just enough moisture for the roots to extend deeper into this mineral-rich soil. In combination with cool evening temperatures, these factors create wines of incredible depth and potential for aging.
Founded in 1893, Cantina Terlano has grown into one of the leading wine growers' cooperatives in the Alto Adige region of northeastern Italy. With a current membership of 143 growers farming a total area of 165 hectares, Terlano insures the highest standards of quality by compensating growers for the quality of their grapes not the quantity. The emphasis in the vineyard is on reducing yield in favor of producing more concentrated fruit.
Terlano produces 70 percent white wines and 30 percent red wines, all of them of DOC quality designation. Following a winery renovation in 2009, the cellars now include a total of 18,000m of storage space, which ensures that the wines can develop undisturbed. On the outside, the building has a natural exterior of red porphyry, the stone that gives the wines in the area their typical character. The roof of the winery is planted with vines so that the building blends in completely with the surrounding countryside.
Terlano wines are classified in four distinct quality lines: Tradition, Selection, Rarity and Primo. Terlano wines are famous for their incredible depth and complexity and their stellar reputation continues to make these wines highly sought after both at home and internationally.
Varietals planted :
Müller-Thurgau, Sauvignon Blanc, Pinot Bianco, Pinot Grigio, Pinot Nero, Lagrein, Schiava, Chardonnay, Gewürztraminer, and Merlot
Winery production :
1,400,000 bottles
Total acres planted :
407 acres/165 hectares
Close
Recommend this Producer
Your pdf has been sent with success.