Return
Domaine Marc Sorrel
Rhone Valley, France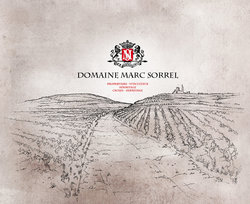 The Sorrel family has been working in the wine industry in the northern Rhone region of France since the late 1800s. Marc's grandfather, Félix Sorrel, bought land and established the Domaine in 1928, later passing the property on to his son, Henri, who continued to sell the domaine's grapes until 1979, when he to make his own wine to sell. After Henri's death in 1982, Marc took over the family business and after some experimentation in the cellar, he is now one of the most renowned producers of traditional Hermitage.
Marc inherited two hectares of vines from his family and later acquired another two more hectares located in Hermitage and Crozes-Hermitage. Marc farms organically with his syrah located in the leux-dits of Les Bessards, Les Greffieux, and Les Plantiers. The marsanne and roussanne are farmed in Les Rocoules and Le Gréal with a 60-year-old parcel in the Méal vineyard.
Marc constructs three reds wines; Hermitage, Hermitage Le Gréal, and Crozes-Hermitage. His white wines consist of two bottlings; Hermitage blanc and Hermitage Les Roucoules. Marc's approach to winemaking is non-interventionist and traditional. Whole cluster grapes, used oak barrels, and the wines age in oak at least 24 months before bottling.
Varietals planted :
Marsanne, Roussanne, Syrah
Winery production :
18,000 bottles
Close
Recommend this Producer
Your pdf has been sent with success.