Return
Terra Costantino
Etna, Sicily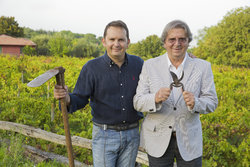 "We listen to the grapes, smell the earth, caress the vineyard. When the sun beats down, when cold nights are blowing on the vines, when they change the colors of the leaves, we are there. The wine, however, is not made by us. The wine, here, is made by Etna." -Dino and Fabio Costantino
Terra Costantino is a family-owned estate located in the heart of the Etna DOC in Sicily. This is a protected area of traditional and historic wine production located on the mid-slope of Mt. Etna. Terra Costantino is located on the south-eastern slope of the volcano in the town of Viagrande, in Contrado Blandano. Established in 1978 by Dino Costantino, today his son Fabio runs the estate with him. With vineyards stretching across 10 hectares planted between 450m - 550m above sea level, together they cultivate the indigenous grapes of Etna: Carricante and Catarratto for white wines and Nerello Mascalese and Nerello Cappuccio for red wines.

Terra Costantino achieved organic certification in 2002 and Luca D'Attoma has been the consulting oenologist providing advice and counsel since 2010.


Owner :
Fabio and Dino Costantino
Varietals planted :
Nerello Mascalese, Nerello Cappuccio, Carricante, Catarratto and Minnella
Winery production :
40,000 bottles
Total acres planted :
25 acres (10 hectares)
Close
Recommend this Producer
Your pdf has been sent with success.