Return
Montecappone
Marche, Italy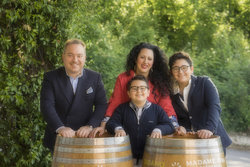 Montecappone was founded in the late 1960s in Jesi in the Ancona region of Marche, Italy. In 1997 the Bomprezzi-Mirizzi family (owners of the famous wine shop in Rome called Enoteca Tuscolana) bought the property and immediately began renovating and expanding the winery. They also decided to replant almost all of the vineyards.
The Montecappone property currently stretches over 54 hectares of vineyards and 12 hectares of olive groves that are scattered amongst the hills and castles of beautiful Jesi. The focus in the vineyard centers on low yields, careful selection of grapes, and respect for this beautiful land. Mr. Mirizzi is intent on showcasing terroir through collaboration with all who work with him: consultants, agronomists, and wine experts. The wine is vinified and bottled in Montecappone's completely updated winery.
In his book Native Wine Grapes of Italy, Vinous Media's Italian expert, Ian d'Agata, says that that "Verdicchio is arguably Italy's greatest native white grape variety." Grown mostly in the region of Marche, Verdicchio is particularly well-suited to the maritime climate and clay of the Castelli di Jesi region, which is located in the northern part of Marche.
Owner :
The Bomprezzi-Mirizzi Family
Varietals planted :
Verdicchio, Sauvignon, Montepulciano, Sangiovese, and Syrah
Total acres planted :
133 acres (54 hectares)
Close
Recommend this Producer
Your pdf has been sent with success.