Return
Piùcinque
Veneto, Italy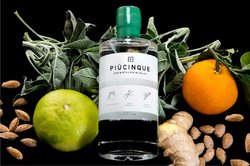 Piùcinque gin is the debut label from an innovative new company called Threespirits. The company is made up of three friends: Antonio, Filippo, and Giacomo. Their friendship is rooted in a shared passion for drinking well and traveling together. The name "Piùcinque", which means "plus five" in Italian, comes from the first recipe that was used to create the gin. Once the balance of the ten botanicals was defined, the next focus was to work on their intensity. As the team was analyzing different combinations, they only found one with the perfect alchemy. This bottle was tagged by the master distiller with the wording "plus five" (as there was a greater intensity of five of the ten botanicals) and for this reason the name Piùcinque was naturally born. The flavors of sage, bergamot, and ginger are what make this gin stand out. Piùcinque gin is distilled at Antica Distilleria Quaglia, which is located just outside of Turin in Piemonte, Italy
Outside of Italy, Piùcinque is only available in the U.S., United Kingdom, Switzerland and the Netherlands. It is currently one of the only premium Italian craft gins available in the U.S.
The Threespirits' team originally created this artisanal gin with themselves in mind: "We ourselves are the first customers Piùcinque is thought for. When we are at the bar counter we would like to be served a gin which is different from the others and which never wears out, because it always remains faithful to itself."
Close
Recommend this Producer
Your pdf has been sent with success.