Return
Ridgeview
South Downs, England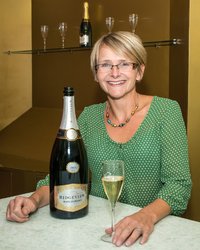 Described as the "Grandaddy of English sparkling-wine producers" by Jancis Robinson, Ridgeview is a family owned winery dedicated solely to the production of the highest quality sparkling wines, using traditional Champagne varietals and methods.
Founded and run by Mike Roberts in 1994, until his passing in 2014, Mike was chair of the English Wine Producers and was awarded an MBE (Member of the British Empire) by the Queen for his services to English wine in 2011. Widely considered to be one of the most important influencers to the rise of the English sparkling-wine industry, his dedication to his belief that England was capable of producing world-class sparkling wines is still being felt today. Ridgeview was one of only two producers planting exclusively to traditional Champagne varietals at the time it was founded, and was responsible for the transformation of the industry to what it is today. Ridgeview is still a benchmark producer, consistently winning recognition and top-awards.
Throughout their impressive 20-year history, Ridgeview has won over 200 medals and 27 trophies in National and International competition, been named English Wine Producer of the year four times, and won the trophy for 'Best Sparkling Wine, Including Champagne' at the Decanter World Wine Awards. This is the only time the award has been given to a wine produced outside of Champagne.
The winery is run today, by the second generation of the Roberts family. Mike's children Tamara and Simon hold lead roles as CEO and winemaker, continuing and expanding on their fathers' legacy for producing the highest quality English sparkling-wines.
Being just 88 miles north of Champagne with an almost identical geology and climate, it is not surprising that Ridgeview wines are often being compared to those of that quintessential sparkling wine region. Jancis Robinson likened the Blanc de Noir to a "rustic Bollinger".
While the comparisons are flattering, Ridgeview does not intend to simply be Champagne's cousin to the North. In fact, England is the only sparkling wine region in the world capable of not only competing with, but exceeding the quality of Champagne.
Ridgeview is now one of England's premier producers of sparkling-wine. Always looking to the future, a major winery expansion, allowing for storage of 1 million bottles, will allow them to double production within five years' time. Ridgeview does not plan to be the biggest producer of English sparkling wines, but it does plan to be the best.
Ridgeview wines have been served at state banquets hosted by Her Majesty the Queen at Buckingham Palace, and Windsor Castle, including events welcoming President Barack Obama, Chinese Premier Xi Jinping, and for the Queens official Diamond Jubilee celebrations.
Worldwide demand for Ridgeview wines continues to grow as does their reputation for producing the best wines the region has to offer.
Owner :
The Roberts Family
Varietals planted :
Chardonnay, Pinot Meunier, and Pinot Noir
Winery production :
130,000 bottles
Close
Recommend this Producer
Your pdf has been sent with success.