Return
Remo Farina
Veneto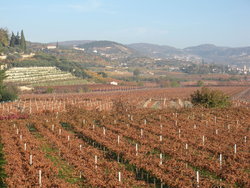 The Farina family has roots in agriculture and winemaking tracing back to the beginning of the 16th century. Inspired by this long family history, Remo Farina was able to combine the most modern concepts in winemaking technology with ancient, time-tested methods to produce rich, elegant wines. Today the winery is managed by the new generation and continues to produce lovely fresh white wines and exquisite red wines that have great body and balance with a wonderful combination of sweet fruit and traditional dried fruit blended with earthy undertones and a dry complex pleasant finish. Farina's Valpolicella and Amarone wines are among the best-priced quality wines from this region.
In 2015, Farina was named "Best Italian Wine Producer of the Year" at the 46th International Wine & Spirit Competition (IWSC) and aslo received a Gold award for the best variety of indigenous grape with their Amarone della Valpolicella DOCG Classico Riserva Montefante 2010. At the 48th IWSC in 2017, they were awarded the 2017 Silver Trophy for the Amarone della Valpolicella Riserva Montefante 2011 and Amarone della Valpolicella DOCG Classico 2014 and the 2017 Bronze Trophy for the Valpolicella Ripasso DOC Classico Superiore Montecorna 2015 and Bianco del Veneto IGT Appassilento 2016.
On January 30th, 2016 the 13th Anteprima of Reds from Valpolicella took place in VERONA and the 2012 Farina Amarone Classico was awarded first prize out of 76 wines. The blind jury was composed of renowned sommelier Luca Gardini, Pier Bergonzi, director of the Gazzetta dello Sport , the Master of Wine Christy Canterbury, Raul Salama, and journalist Marco Tonelli.
Luca Gardini, one of Italy's most famous sommeliers, ranked the 2012 Amarone della Valpolicella as 29th out of his lineup of the 50 best wines in the world.



Owner :
Alessandro, Claudio and Elena Farina
Varietals planted :
Corvina, Corvinone, Dindarella, Garganega, Molinara and Rondinella
Winery production :
300,000 bottles
Winemaker :
Luigi Andreoli, Andrea Zerman
Total acres planted :
50 acres/20 hectares
Close
Recommend this Producer
Your pdf has been sent with success.