Return
Quadri
Veneto and Sicily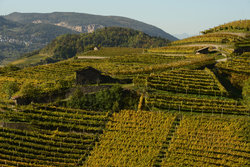 Tradition, ingenuity and time-honed techniques all converge to create wines to accompany the beauty found in everyday moments. Quadri Wines are an insight into Italian culture and are the synthesis of balance and harmony: art. The northeastern part of Italy is traditionally known as the "Tre Venezie" and includes the regions of Friuli-Venezia Giulia, Veneto and Trentino-Alto Adige. Quadri Wines celebrate the diversity and regional character of this important wine-producing zone. Quadri means "painting" in English and each one of these wines illustrates a rich landscape of enticing aromas and balanced fruit concentration on the palate. The prime characteristics of Quadri Wines are pure fruit intensity and clean, balanced flavors that are representative of the various terroirs from which the grapes are selected. The grapes for Quadri Wines are grown in excellent vineyard sites in the Veneto and surrounding regions. Quadri Wines are accessible and food friendly and are quickly becoming favorites of wine lovers everywhere.


Varietals planted :
Pinot Grigio, Sauvignon, Chardonnay, Pinot Noir and Nero d'Avola
Close
Recommend this Producer
Your pdf has been sent with success.