Return
Domaine Saint-Siffrein
Rhone Valley, France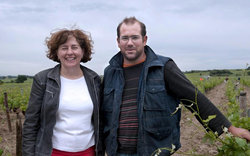 Domaine Saint Siffrein was founded in 1880 by Abel Siffrein. Today Cyril Chastain, the fourth generation of the original Siffrein family, is solely in charge of the operations doubling as owner and winemaker. Cyril cultivates 5 ha (12.5 acres) of vines in the Côtes du Rhône Villages region and 15 ha (38 acres) in Châteauneuf-du-Pape with an average vine age of 60 years old. Most of the traditional winemaking practices continue to this day with some implementation of modern techniques. The estate has been farmed organically for 35 years but in 2012 they received official certification.
Varietals planted :
Grenache, Mourvèdre, Syrah and Roussanne
Winery production :
50,000 bottles annually
Total acres planted :
42 acres (20 hectares)
Close
Recommend this Producer
Your pdf has been sent with success.