Return
Domaine Jean-Claude Courtault
Chablis, France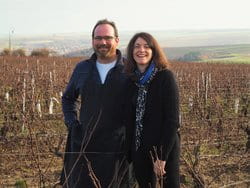 A native of Touraine, Jean-Claude Courtault arrived at Lignorelles in 1974 to work as Vineyard Manager for one of the village's wine estates.
In 1984, Jean-Claud Courtault seized the chance to buy 1.5 hectares of a 4 year old vine plot in the Chablis area. Next, he rented another plot, which he then planted with the help of his wife, Marie-Chantal and so the estate Jean-Claude Courtault was born. Ever since, Jean-Claude has been perfecting his craft which he now shares with his daughter Stéphanie and her husband Vincent Michelet. The Domaine now has 20 hectares and produces Petit Chablis, Chablis, Chablis Premier Cru, Chablis Grand Cru.

Banville Wine Merchants is pleased to offer three bottlings from Courtault: Chablis, Chablis 1er Cru Beauroy, and Grand Cru Valmur. Each of these wines offer what we consider to be the very best qualities of the appellation with a proper balance of typicity and house-style, tradition and modernity. Jean-Claude's "grower's signature" is one of strong fruit character backed by the classic stony intensity that has made Chablis one of the world's most sought-after wines.
Owner :
Courtault and Michelet Families
Varietals planted :
Chardonnay
Winemaker :
Jean-Claude Courtault and Vincent Michelet
Total acres planted :
20 hectares
Close
Recommend this Producer
Your pdf has been sent with success.