Return
Zyme
Veneto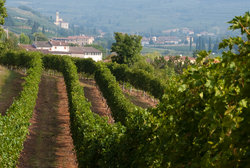 In ancient Greek, the word zyme means "yeast," a term of fundamental importance in oenology. Zyme's logo is a pentagon within a vine leaf, symbolizing the five primary elements of wine making - man, vine, earth, sun, water. Zyme was officially founded by Celestino Gaspari in 2003, but has been active since 1999 as his oenological consulting firm. Zyme winery is located in the heart of the Valpolicella Classica area with a unique cellar in an ancient sandstone quarry within the town of San Pietro in Cariano.
Celestino Gaspari's personal adventure began when he was very young, in Val d'Illasi, as he worked on the family property alongside his parents and studied agronomy. When Celestino was 20, he met his future father-in-law, Giuseppe Quintarelli. He worked for 11 years at the Quintarelli winery during which time he married his wife Maria Rosa Quintarelli. Celestino has consulted for many of the regions finest wineries and is known as an extremely talented local vigneron with technical expertise, an avant garde philosophy and healthy curiosity, making his wines not only unique but the top in their region.

All of his experience in vitiviniculture has led to his winery - Zyme. Celestino is fuelled by passion for discovery and perfection, based on the new and the traditional, like a book waiting to be read. He transmits this passion to the forward thinking people around him - especially those who work on his team and grow in synergy with the vines they tend.
Varietals planted :
Corvina, Corvinone, Rondinella, Croatina, Oseleta, Molinara, Teroldego, Nebbiolo, Syrah, Cabernet Sauvignon, Cabernet Franc, Merlot, Petit Verdot, Garganega, Trebbiano Toscano, Chardonnay, Sauvignon Blanc, Rondinella Bianca, Kerner, Incrocio Manzoni, Gold Traminer, and Pinot Nero
Winery production :
80,000 bottles
Winemaker :
Celestino Gaspari
Total acres planted :
27 hectares
Close
Recommend this Producer
Your pdf has been sent with success.