Return
Terlano
Alto Adige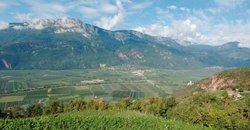 Founded in 1893,
Cantina Terlano
has grown into one of the leading wine growers' cooperatives in the Alto Adige region of northeastern Italy. Located in the Dolomite Mountains in the foothills of the Alps, Terlano's distinctive location and extraordinary terroir are key to the development of their stunning wines. Situated in a sheltered hollow, Terlano benefits from an ideal south‐facing exposure. Vineyard slopes ranging from 250m-900m ASL provide perfect conditions for the cultivation of grapes, especially Lagrein, a variety that is indigenous to the Alto Adige region. Vineyards composed of red porphyric rocks with high mineral content accumulate and retain the day's warmth, while the porous soil allows the water to drain, keeping the soil dry around the roots of the vines. These factors, combined with the cool evening temperatures, create wines of incredibly depth and potentially for aging. With a current membership of 143 growers farming a total area of 165 hectares, Terlano insures the highest standards of quality by compensating growers for the quality of their grapes not the quantity. In the vineyards, the emphasis is on reducing yield in favor of producing more concentrated fruit.
Terlano produces 30 percent red and 70 percent white wines, all of them of DOC quality designation. Following a winery renovation in 2009, the cellars now include a total of 18,000m of storage space, which ensures that the wines can develop undisturbed. On the outside, the building has a natural exterior of red porphyry, the stone that gives the wines in the area their typical character. The roof of the winery is planted with vines so that it blends in completely with the surrounding countryside.
Terlano wines are classified in three distinct quality lines: Selections, Vineyards, and Classics. An annual "rarity" is also produced, which is only released for sale after it has spent at least ten years maturing in the cellars. Terlano wines are famous for their incredible depth and complexity and their stellar reputation continues to make these wines highly sought after both at home and internationally.
"In Italy, 'wine cooperative' can be a pejorative, synonymous with grape-buying collectives that produce oceans of basic wine destined for supermarkets. Northeastern Italy's Alto Adige is an exception, known for co-ops that produce wines as good as those from top independent winemakers. Here, on the edge of the Dolomites, just six miles northwest of the regional capital, Bolzano, Cantina Terlano produces some of Italy's most prized—and most historic—white wines."
-
Robert Camuto, Wine Spectator, May 9th, 2016
"Founded in 1893, Cantina Terlano is one of the most prolific wineries in Italy and among the oldest in the region. It offers an outstanding line of wines that embrace multiple styles and philosophies. That inherent flexibility makes this co-operative winery one of the most exciting and innovative models in Italian wine today. I also credit Cantina Terlano with being one of the loudest proponents of the aging potential of Italian white wine. Often dismissed as easy-drinking and short-lived, the folks at Terlano have dedicated energy and resources to proving that Italy is naturally capable of making cellar-worthy whites...This is one winery that puts its money where its mouth is. I congratulate them for the important service they have rendered to Italian white wines."
-Monica Larner,
The Wine Advocate
, October 30th, 2014
Varietals planted :
Müller-Thurgau, Sauvignon Blanc, Pinot Bianco, Pinot Grigio, Pinot Nero, Lagrein, Schiava, Chardonnay, Gewürztraminer, and Merlot
Winery production :
1,400,000 bottles
Total acres planted :
407 acres/165 hectares
Close
Recommend this Producer
Your pdf has been sent with success.