Return
Paternoster
Basilicata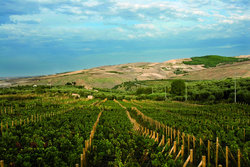 The Paternoster family is one of the most important families in the history of Aglianico del Vulture. Don Anselmo, the winery's founder, learned the noble art of winemaking from his father and in 1925 started Paternoster Winery and made the first bottles of Aglianico del Vulture. Don Anselmo's philosophy is evident in each aspect of the present day company's life. The total annual production is never over 150,000 bottles, in order to guarantee top quality wines to satisfy even the most demanding palates, for both national and international markets. Through the years, Paternoster Winery has been awarded many national and international prizes for being a strategic reference point for the whole winemaking tradition in the Vulture area. The winery's historical commitment to tradition and quality, especially with reference to the strong connection to their land: Barile, an ancient village historically vocated to viticulture, as witnessed by the fascinating rows and terraces of antique tufaceous cellars representing the heart and the future of winemaking art of this unique terroir.

Owner :
Paternoster family
Varietals planted :
Aglianico, Fiano and Moscato
Winery production :
150,000 bottles
Winemaker :
Anselmo Paternoster and Fabio Mecca
Total acres planted :
20 hectares
Close
Recommend this Producer
Your pdf has been sent with success.