Return
Donna Laura
Toscana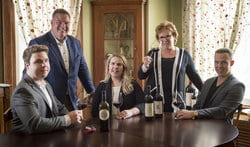 Donna Laura winery specializes in producing three red wines from first-class Sangiovese grapes grown in the Chianti Classico region. This venture, spearheaded by owner Lia Tolaini-Banville, seeks to fulfill a need in the American market for high-quality Sangiovese wines at an accessible price point that are both representative of the terroir of the region, as well as international in style. To combine the best of tradition and modern characteristics, two Sangiovese clones are grown in the Donna Laura vineyards. CH-20 brings structure, while F9, a more modern clone, augments the fruit intensity of the finished wine. High density vine planting and low yields help to further achieve ideal levels of fruit concentration. This balance of old and new character initiated in the vineyard, in cooperation with modern winemaking techniques, makes these three red wines: Ali, Alteo and Bramosia delicious to drink on their own, or equally pleasing with a variety of different foods. Donna Laura's wine is of the highest quality and the best value from this region.

Owner :
Lia Tolaini-Banville
Varietals planted :
Sangiovese and Merlot
Winery production :
500,000 bottles
Winemaker :
Francesco Rosi
Total acres planted :
30 acres/12 hectares
Close
Recommend this Producer
Your pdf has been sent with success.